OUR CURRICULUM
The CERT VAT Academy offers taxation training and certification programs aligned to recognized taxation body of knowledge and localized to the UAE legal, business, and cultural environment. Our curriculum, encompasses eight clusters of a Tax Professional Competencies Framework, applicable across functional roles at progressive levels.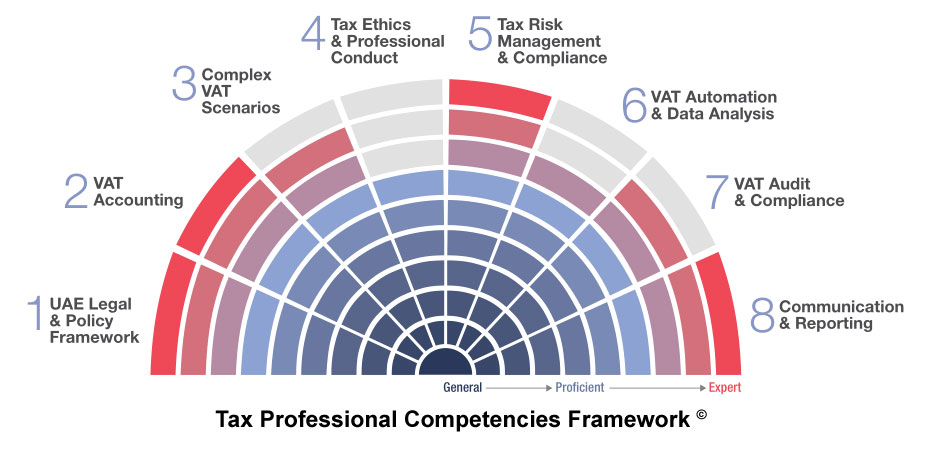 1. UAE VAT Legal Framework
Fundamentals of UAE VAT.
Advanced Topics in UAE VAT.
VAT Framework in GCC and UAE.
Scope of UAE VAT Implementation.
2. VAT Accounting
Accounting for UAE VAT.
VAT Registration.
VAT Calculation.
Record-keeping & Filing.
Transaction-wise Mapping of Input and Output VAT.
Tax Planning: Finance & Procurement.
3. Complex VAT Scenarios
VAT for Tax Groups.
VAT for companies operating in FTZ.
VAT in Export & Imports.
VAT for Job batch-basis transactions.
4. Tax Ethics & Professional Conduct
Principles of Ethics in VAT Planning & Management.
Professional Conduct in Tax Returns, Tax Advice.
Disclosure of Tax Avoidance and Tax Evasion Schemes.
5. Tax Risk Management & Compliance
VAT Function and Risk Management Model.
Impact Assessment Matrix.
VAT and Contracting considerations.
VAT Account Relationship Management.
6. VAT Automation & Data Analysis
VAT Accounting and Reporting Automation.
The role of the IT function in system compliance.
7. VAT Audit & Compliance
VAT Audit Compliance System.
VAT Audit Process, Documentation and Audit Files.
VAT Policy & Procedures Manuals.
VAT Penalty Assessments & resolution.
Audit Cases and Post-Audit Controls.
8. Communication & Reporting
Communication unit in Tax framework:.
Preparation of tax returns.
Analysis and presentation of tax related data.
Tax-related correspondence to regulatory bodies.
Preparation of tax-related reports and tax notes.
VAT ACADEMY TRAINING PROGRAMS
The CERT VAT Academy operationalizes a competency-based framework into three training levels or programs:
::: Contact Us :::
CERT Headquarters, Abu Dhabi.
Registration enquiries
Please contact us to receive more information